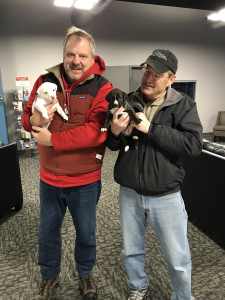 It was a cold early-December morning when Vx Group President Eric Zoromski hopped in the pilot's seat of a plane headed to Rensselaer, IN. His mission: transport a mother dog and her eight pups to their new home in Wisconsin.
It was all part of Pilots N Paws, a non-profit organization that matches volunteer pilots and plane owners with rescue dogs in need of transport.
"We are all dog lovers at the Vx Group and this is such an important cause for us," Zoromski said. "Every year there are thousands of pets taken to shelters that just want a good, safe home. This service helps place those pets, no matter where that good home is."
In this case, the journey to a new home began with a posting on Pilots N Paws discussion board titled "URGENT! Sweet Mom & Pups Need Transport!" It detailed how Phoebe, the 2-year-old mixed breed mother of eight 4-week-old pups, needed to be flown from Ohio to La Crosse, WI for a new life and some much-needed medical attention.
You see, Phoebe has heartworm, a potentially fatal disease if not treated. The pups were fine, and Phoebe was OK to fly, but she still needed to get somewhere that could treat her and help her care for her infant pups. That was over 250 miles away.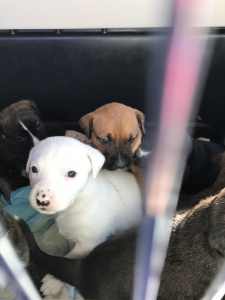 So, on the morning of Dec. 10, Zoromski hopped into the pilot seat of a Piper Lance and flew with co-pilot Matt Staelens to Rensselaer, IN. There, he met Phoebe and her pups for the first time. After a brief introduction, they were loaded into the passenger compartment of the plane and they took off northbound to their new home.
The flight was fairly uneventful, Zoromski said. The dogs were quiet, the flying conditions were good, he barely heard a woof out of his nine passengers. As many dog owners can attest, traveling with pets can often be a challenge.
By the afternoon, Phoebe and her pups had been introduced to their new family and they were on their way to begin a new life in Wisconsin.
"It was really sweet," Zoromski said. "We got to play with them a little bit after we landed, but I think they were just excited to finally be going home."
Learn more about Pilots N Paws.