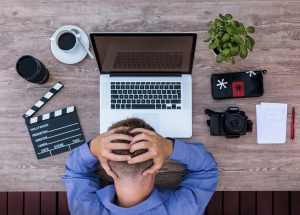 Companies put a lot of time and effort into getting potential customers to visit their websites. From search engine optimization to pay-per-click, print and website ads, social media strategies, search engine marketing, backlinking and blogging strategies, most businesses use every trick in the book to boost visits. But what are your visitors seeing once the click through to your site?
When people visit your website, they are looking for information. If they don't find it, or you make it hard for them to locate what they are looking for, they'll probably leave. And they may never come back. Here are 5 things that will push website visitors away.
Contact/Location/Hours of Operation: It's hard to believe that this is true, but many businesses forget to put this information in an easy to find position. If your potential customers can't quickly find out where you are, when you're open or how to contact you, they're leaving.
Bad user experience: Your site looks great, but all visitors see are slow-loading photos. It's not the 1990s anymore! People aren't going to wait for your optical elements to finish loading.
Too Much/Not Enough Homepage Info: Imagine there are two people at your business locked in a heated debate. One says your website homepage needs to be able to answer every question a potential customer could have about your business, the other just wants a pretty picture and a link to create some mystery and get visitors interested in learning more. Both are wrong. You need just enough to accurately describe what you do (and everything mentioned in item #1.)
It's not responsive on mobile: Look at your website on your phone. How does it look? Does it look like the same website you see on your computer? Or, does it redirect to a mobile (m.yourwebite.com) site? Both point to a dated website. Modern websites use responsive design – allowing the site to dynamically change the way it looks based on the device it's being viewed on. About 80% of internet users own a smartphone, and roughly 56 percent of consumer traffic to the leading US websites is now from mobile devices, so your mobile game needs to be on point.
Your website looks like this: This may work for Ling, but it won't work for you!