Community banks like Oostburg State Bank have long been locked in battle with large banking institutions and are now facing new competition from new online-only financial services.
Despite the fact that Oostburg State Bank had been serving its customers since 1908, very few people outside of the small, Sheboygan County community knew of the banks existence. With a desire to remain fiercely independent, the bank decided it was time to update its image to be more competitive and reach out to potential customers in other communities.
Under the guidance of the Vx Group, Oostburg Stage Bank debuted its new image and sales strategy – and the response was immediately very positive. With a new website and sales materials created by Vx Group, Oostburg State Bank began operating under the mantra, "Banking for Life" – immediately increasing the bank's visibility in new markets and reaching a new customer base.
With this increased visibility, Vx Group worked with Oostburg State Bank to establish new sales goals, specifically increasing mortgage customers by targeting first-time home buyers. This strategy included the launch of a first-time homebuyers seminar to educate the prospective homebuyers about the loan process and promote the benefits of working with a smaller financial institution. The relationship with the Vx Group also produced a successful campaign to broaden its CD market and sales and a switch-to-paperless campaign that created cost savings for the bank and a stronger relationship to the community by agreeing to plant a tree for each person who made the switch.
SERVICES: Brand Modernization, Sales Channel Development, Search Engine Marketing, Social Advertising
Vx Group has positioned us to compete in a changing banking and financial services landscape. It's important to have a business leadership partner who has their ear to the ground and is ready to respond as opportunities arise. 
Jon Grosshuesch, CEO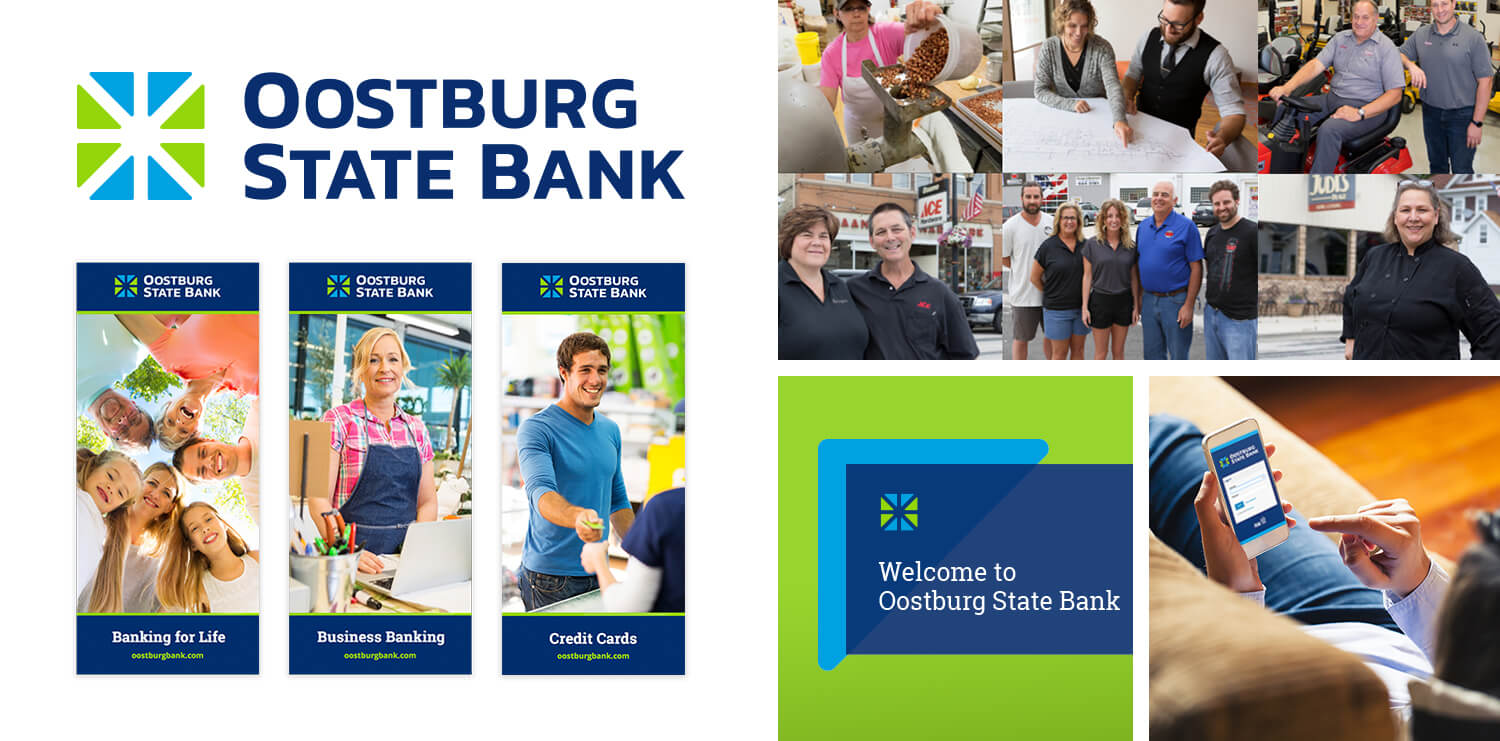 Experience the Before and After of Brand Modernization
The Importance of Community Banking
When Oostburg State Bank first opened its doors in 1908, a year before the Village of Oostburg was incorporated, it was serving a community of about 350 people. As the area grew, Oostburg State Bank grew with it – anchored at the very heart of the community it serves.
Preserving that relationship with the community was important to Oostburg State Bank, equally important was the ability to fend off new competition from outside financial entities touting modern convenience banking solutions. We quickly discovered Oostburg State Bank was in a unique position – they offered the same modern services as the competition with the personal service only a community bank could offer. That ability to do both was a huge asset.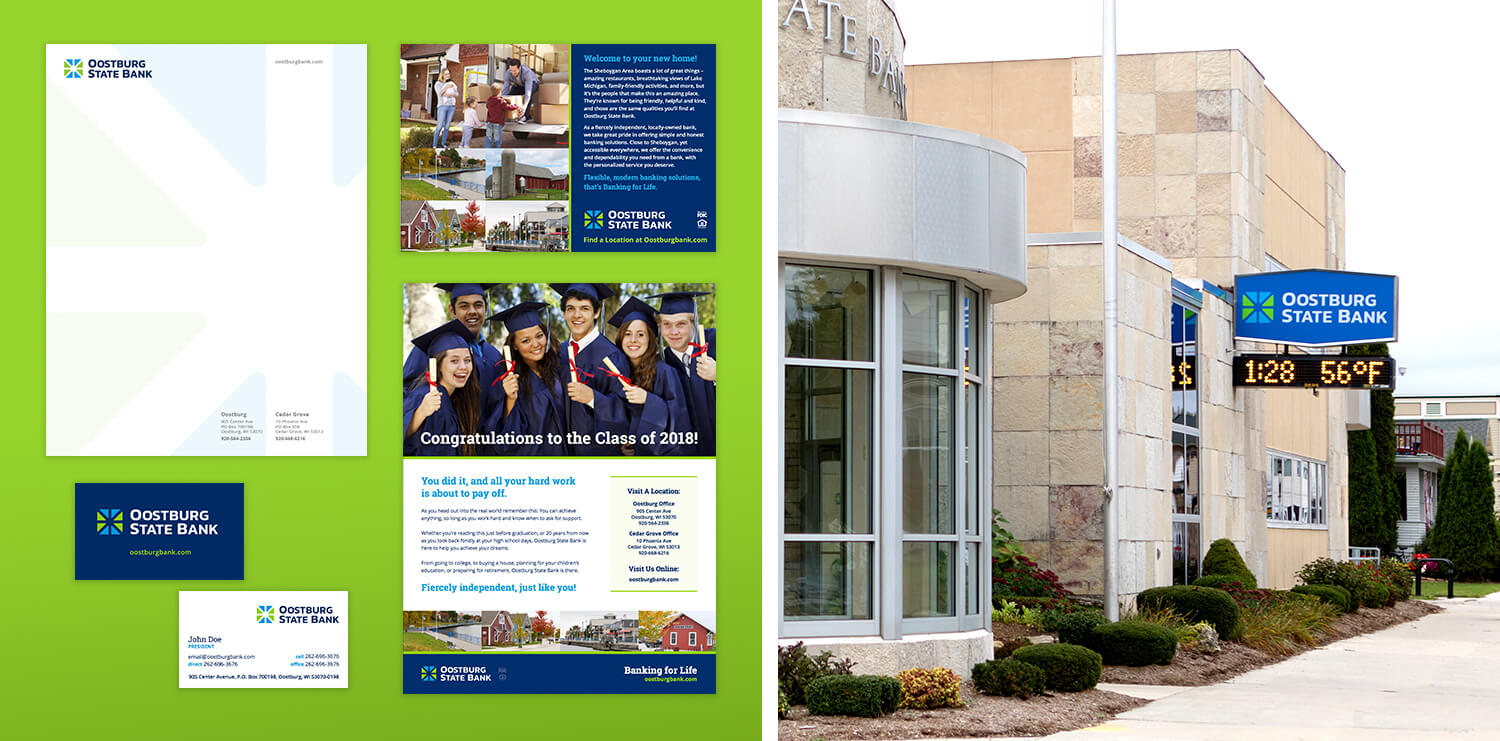 A Brand Built for the Next 110 Years
The Oostburg State Bank brand had to encapsulate a number of key offerings – personalized service, the desire to remain independent, modern banking solutions, honesty, traditional bank accounts, wealth building services, business services, mortgages and their longstanding relationship with the community. We took a deep, hard look at what connected those offerings and discovered they all enhanced the life of the customer.
Banking for Life became Oostburg State Bank's thesis statement, embodying the philosophy that no matter where the customer was in their life – just starting out, building a family, starting a business, or getting ready to retire – Oostburg State Bank provides the convenience and dependability they needed from a banking institution, with the personalized service they deserved.
We worked with them to develop a new, modern image to complement that bold statement, creating a new website and marketing materials built on the main brand messaging. In addition, we developed sales and marketing strategies aligned with specific sales goals to extend Oostburg State Bank's reach throughout the community and beyond.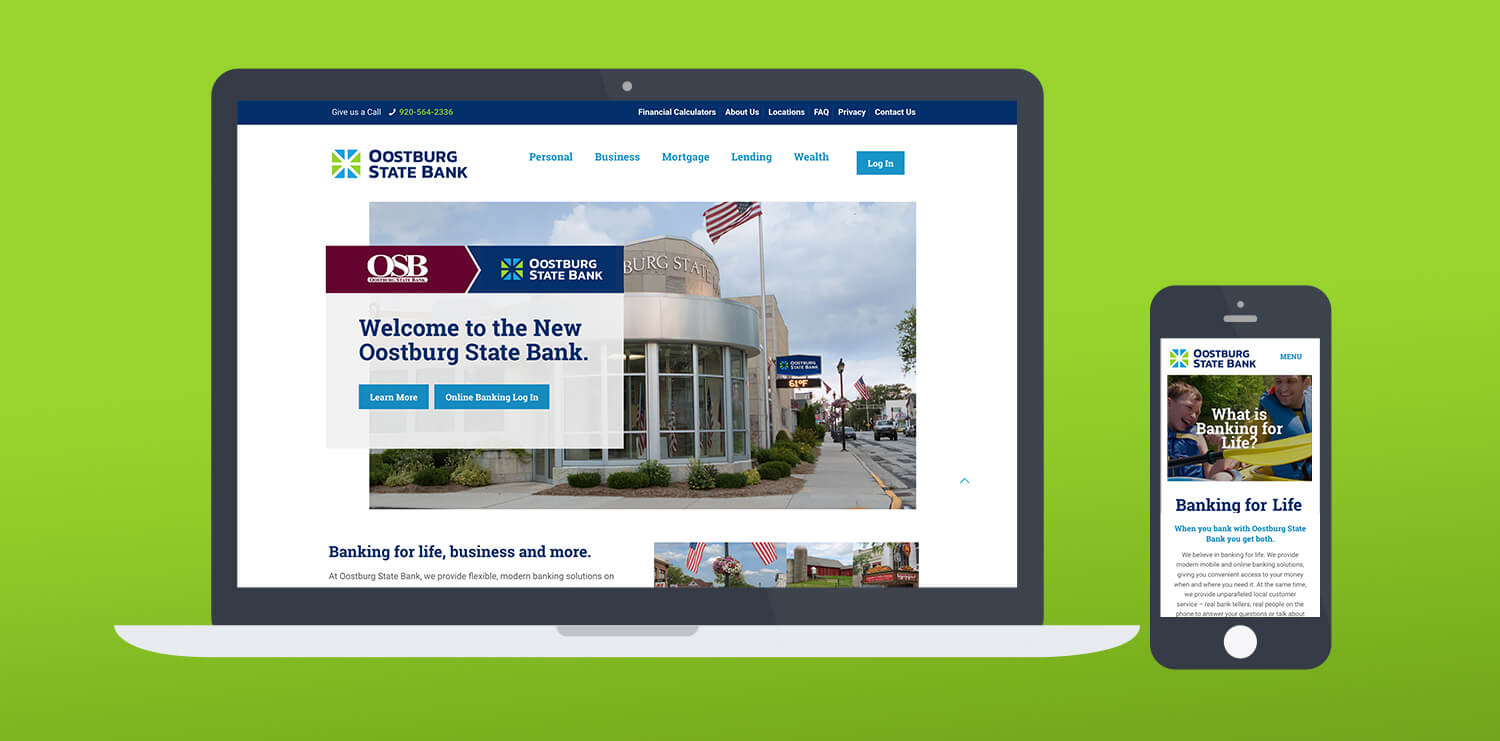 Conclusion
After the launch of the new brand in 2017, Oostburg State Bank and the Vx Group continued their partnership to determine new strategies for servicing first time home buyers, retirement customers and broadening the bank's reach across Sheboygan county.
As the bank enters it's 110th year in 2018, it's showing that remaining the same in a constantly changing banking industry is not an option.
Are you ready to modernize your banking brand and sales strategy?
Eric LaRose
Where do you see your company in 5 years? It's a stock question, but it's an important one. Many of us are busy creating short term plans – weekly task strategies, monthly budget reports, one-year-sales [...]
Eric LaRose
Welcome to Mining Your Sales Data for Gold presented by the Vx Group, a discussion on how you can mine your Sales Data for the gold we all seek – ideal customers. A little background [...]
Eric LaRose
It is a job-seekers' employment market. With nationwide unemployment hovering around 3.9%, and the Wisconsin unemployment rate even lower at around 3%, employers are now having a difficult time filling key positions – especially in [...]